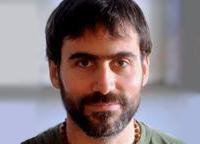 Sunday, April 23–May 7 • 3:30–5:30 p.m.
For anyone new to meditation, as well as those who wish to enhance or strengthen their practice, the certified meditation instructor Rev. Sam Rudra Swartz guides the practice of five meditation techniques in depth. The experience will help you decide which techniques resonate for you and inspire you to integrate meditation into your life. No experience required. Includes a free copy of the booklet Meditation by Sri Swami Satchidananda.
If every 8 year old in the world is taught meditation, we will eliminate violence from the world in one generation. —Dalai Lama
$60
Rev. Sam Rudra Swartz, IYM, has been a devotee of Swami Satchidananda since 2001. A 2004 Graduate of the All-Faiths Seminary in New York he received ordination from Rabbi Joseph Gelberman an Interfaith Minister. He has performed wedding ceremonies around the United States, lead interfaith services, and Jewish services at the Actors' Temple in New York as well as at other synagogues and gatherings. Most recently he lived and served at Satchidananda Ashram Yogaville Virginia as a Karma Yogi as well as participating in religious offerings.
Also with Rev. Sam Rudra Swartz, IYM: