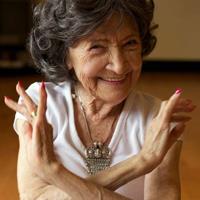 Saturday, May 6 • 2:00–5:00 p.m.
Tao Porchon-Lynch brings more than 98 years of life experience to her teaching, sharing inspiring stories from her childhood in India and years of study with many of India's Yoga masters. Combining the use of bandhas, pranayama, awareness of alignment, and gentle flow, Tao invites questions and offers hands-on assistance. At the end of asana practice, be enthralled by a special "Conversation with a Master" talk with slideshow moderated by Integral Yoga teacher and Tao's biographer, Teresa Kay-Aba Kennedy. Includes Yoga: Experienced Beginners and Intermediate/Advanced Students
$65
Tao Porchon-Lynch
, E-RYT 500, has taught Yoga in India, France, and the United States since 1968 and brings to her students more than 40 years' experience and hands-on adjustment techniques. She integrates the timeless jewels of the Vedas and classical Yoga with the methods of her teachers: B.K.S. Iyengar, Mataji Devi, and Swami Prabhavananda.
www.taoporchonlynch.com