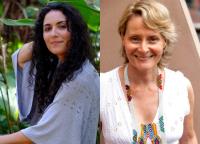 Love, Transcendence, and Unity: Rumi's Poetry and Swami Satchidananda's Teachings

with Haleh Liza and Nadiya Nottingham, RYT

Tuesday, June 27 • 7:00–9:00 p.m.

Join us to hear mystical poems and messages from Persian, Celtic, and Yogic traditions. The musician, poet, and Rumi translator Haleh Liza will share new translations of Rumi, stories about his life and transformation, as well as chants featuring his original lyrics in Persian. Rumi's teachings on love, transcendence, and unity are universal, resonating with teachings from various cultures. Nadiya Nottingham will share the words of Swami Satchidananda, as well as lore from her own Celtic heritage. Experience a multicultural exploration of love, liberation, and transcendence.

$30
Haleh Liza, of Persian descent, is a musician, poet, and translator born in New York City. As a child, she heard her parents reciting Persian mystical poems, and she went on both to sing in the original language and to translate. Haleh's own poems have been published by Columbia University Press and Rattapallax Press. She has given presentations on Rumi's poetry at Dartmouth University and the University of Cincinnati and has toured extensively with various musical projects, playing such venues as Carnegie Hall and the Bonnaroo festival.
Nadiya Nottingham, RYT
, has been a teacher at IYI for 20 years. She is an advanced Hatha Yogini, a certified Qigong teacher, and a Celtic priestess of Bridget, Ireland's triple goddess. Her meditation practice began almost 40 years ago in her native Ireland, where the beautiful sea and land were her first teachers. Nadiya is a trained shamanic practitioner who offers shamanic-healing sessions through the Integral Yoga Wellness Spa.
www.nadiyanottingham.net