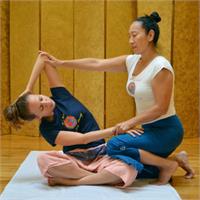 Lotus Palm Thai Yoga Massage 5: 5-Day Intensive

with Sukha Wong

Wednesday–Sunday, November 11–15 • 10:00 a.m.–5:00 p.m.

This advanced Thai Yoga Massage course teaches you all ten energy lines (the sip sen) and how to incorporate them into a powerful Thai Yoga Massage. The energy lines are the traditional theory of the massage. You will learn the detailed running of the lines, their properties, and how to use them in the massage while incorporating Ayurvedic principles and elements from your previous levels of Lotus Palm Thai Yoga Massage training. Course content and outline:
Understand and apply treatments with sen lines
Incorporate 30 new postures into your practice
Expand the side-lying massage
Customize massages for harder-to treat-clients, including o clients who require more pressure o clients who are more flexible
How to massage using your feet
Prerequisite: Lotus Palm Thai Yoga Massage 1, 2, 3, and 4 (without exceptions)
$550
Sukha is the owner and director of Lotus Palm. Growing up in a traditional Chinese household, massage has been part of her entire life. She is an accomplished certified massage therapist and instructor who has been developing courses for number of years. She believes Thai Yoga Massage is a deep and meaningful philosophy that washes away the stresses and strains of everyday living. Sukha's ongoing commitment to the integration of body and spirit compels her to inspire others through her teachings. She brings a friendly sense of balance and inner peace to stretching, compressing and energy work.