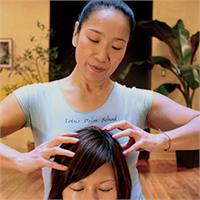 Lotus Palm Thai-Style Head Massage: 2-Day Workshop

with Sukha Wong

Saturday–Sunday, November 7–8 • 10:00 a.m.–5:00 p.m.

A lot of people store tension in the neck area. Knowing how to massage the head, neck, and upper body is beneficial. Thai head massage is a popular treatment for the face, scalp, neck, shoulders, and upper back. A variety of massage techniques will be taught in this workshop, including champissage, which combines head massage with a more subtle kind of energy healing, using firm, gentle rhythm to relieve tension and pain, while Ayurvedic chakra balancing focuses on the three higher chakras. This will bring the energy of the whole body back into balance, creating a deep sense of peace and calm. It can ease discomfort in the face, neck, and shoulder areas. It can be a stand-alone massage, or you can add elements of it to your own Thai massage. This can be a very beautiful end to any massage. Thai head massage is an uplifting treatment that concentrates on relieving upper-body tension. We begin with an invigorating massage of scalp and acupressure points that boosts circulation, following it with gentle and slower techniques to break down any remaining tension and release toxins, leaving the recipient feeling balanced and totally relaxed. In this workshop we will be working on a floor mat.

Course content and outline:
History of head massage
How to give a 45- to 60-minute face, head, and shoulder massage using various techniques
Basic anatomy of the bones and muscles of the face, head, and shoulders
Discussion of how to adapt the techniques for working on a mat, a chair, or a massage table
Compassionate and loving touch
Open to all. Please bring a regular head pillow.

Required reading: An Essential Guide to Thai Style Head Massage on the Mat, by Sukha Wong (Lotus Palm), available at the Integral Yoga Shop for $26.95

$220
Sukha is the owner and director of Lotus Palm. Growing up in a traditional Chinese household, massage has been part of her entire life. She is an accomplished certified massage therapist and instructor who has been developing courses for number of years. She believes Thai Yoga Massage is a deep and meaningful philosophy that washes away the stresses and strains of everyday living. Sukha's ongoing commitment to the integration of body and spirit compels her to inspire others through her teachings. She brings a friendly sense of balance and inner peace to stretching, compressing and energy work.