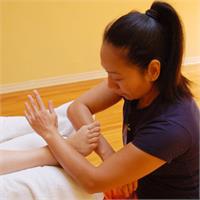 Lotus Palm Thai Mat-Style Foot Reflexology Level 2: 2-Day Workshop

with Sukha Wong

Saturday–Sunday, June 6–7 • 10:00 a.m.–5:00 p.m.

There are millions of nerve endings in our feet and hands. The idea behind reflexology is that through pressure points, the connections in the nervous system can be used to re-energize, stimulate, disperse, unblock, and restore the natural flow of sen (prana or chi, the invisible energy) in your body. This will leave the client feeling totally relaxed. In this second-level workshop, you will further your skills in Thai-style foot massage and incorporate into your work hand reflexology and massage using oils and creams. Performed on a comfortable mat of the floor, these techniques can be easily adapted for working on a massage table.

Course content and outline:
Learn how to use oils and creams
Learn another 60-minute Thai foot massage flow on the mat
Deepen your Thai foot massage techniques
Learn how to massage the hands
Prerequisite: Lotus Palm Thai Style Reflexology Level 1
$220
Sukha is the owner and director of Lotus Palm. Growing up in a traditional Chinese household, massage has been part of her entire life. She is an accomplished certified massage therapist and instructor who has been developing courses for number of years. She believes Thai Yoga Massage is a deep and meaningful philosophy that washes away the stresses and strains of everyday living. Sukha's ongoing commitment to the integration of body and spirit compels her to inspire others through her teachings. She brings a friendly sense of balance and inner peace to stretching, compressing and energy work.