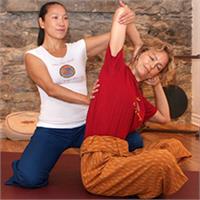 Lotus Palm Thai Yoga Massage 3: 5-Day Intensive

with Sukha Wong

Wednesday–Sunday, June 26–30 • 10:00 a.m.–5:00 p.m.

Learn the fundamental concepts, history, and philosophy of Ayurveda, the ancient Indian healing system in which Thai Yoga Massage has its historical roots, along with practical methods of applying Ayurvedic knowledge to deepen the therapeutic quality of Thai Yoga practice. Discover how to customize a Thai Yoga Massage according to a person's body type (dosha) physically, characteristically, emotionally, and spiritually. This intensive also includes determining an individual's Ayurvedic constitution (vata, pitta, or kapha); how to bring energy movement with vayus into Thai Yoga Massage; how to create a customized two-session Thai Yoga Massage wellness program; how to incorporate the use of the knees as a massage technique; and a 60-minute Thai massage flow with postures different from those offered in levels 1 and 2.

Prerequisite:

Lotus Palm Thai Yoga Massage 1 and 2

Recommended reading: Thai Yoga Therapy for Your Body Type: An Ayurveda Tradition,

by Kam Thye Chow and Emily Moody (Healing Arts Press), available at the Integral Yoga Shop for $24.95

Participants can apply the workshop hours towards C.E.U.'s and/or Yoga Alliance teacher credits. For full certification details and costs and information about continuing-education credits, please visit www.lotuspalm.com

.

Please visit www.iyta.org/credentials for more information on our yoga therapy credentials.

$550
Sukha is the owner and director of Lotus Palm. Growing up in a traditional Chinese household, massage has been part of her entire life. She is an accomplished certified massage therapist and instructor who has been developing courses for number of years. She believes Thai Yoga Massage is a deep and meaningful philosophy that washes away the stresses and strains of everyday living. Sukha's ongoing commitment to the integration of body and spirit compels her to inspire others through her teachings. She brings a friendly sense of balance and inner peace to stretching, compressing and energy work.