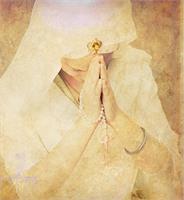 Light of the Soul with Snatam Kaur: Kundalini Yoga, Live Music, and Chanting Workshop

with Snatam Kaur

Saturday, May 13 • 1:00–5:00 p.m.

Integral Yoga's Lotus Room welcomes the angelic presence of Snatam Kaur and the gorgeous sounds of her amazing musicians in a workshop that will entrance and uplift you. As Snatam says, we can absolutely live our lives by the intrinsic light of the soul, that infinite source of wisdom and strength that is within each of us. It is a simple matter of awakening to that light, realizing it is within you, and finding the way to nourish and support yourself so that this light can shine brightly in all that you do.

In this special workshop, Snatam Kaur will share teachings and experiences of Kundalini Yoga and chanting from her new book on daily spiritual practice, called Original Light. She will be accompanied by her band. Please bring a mat, and wear comfortable clothing suitable for practicing Yoga.

For tickets to this workshop, click

here

.

Snatam will be in concert at New York's Town Hall on Friday evening, May 12.

For tickets to the concert, click

here.
Snatam Kaur
is an American singer, peace activist, and author raised in the Sikh and Kundalini Yoga tradition. She has an amazing ability to transform traditional Sikh chants of India into a contemporary sound that appeals to the modern ear and awakens an ancient yearning in the soul. For more than 20 years, she studied with and grew up in the presence of her spiritual teacher, Yogi Bhajan, while he was in his physical form, learning the essence of Naad Yoga, a form of Yoga focusing on sacred sound. At the core of that practice is an essential experience of peace and healing, which has helped her music to be accessible to people of all walks of life. She has taught and shared Naad Yoga and Kundalini Yoga and meditation through her recorded CDs, concerts, and workshops for the past 16 years as a part of her commitment to giving people tools for a daily experience of inner peace. Her new book, Original Light:The Morning Practice of Kundalini Yoga, is a compassionate and supportive guide to creating a personal daily spiritual practice. To find out more about her concerts, workshops, and book, visit
www.snatamkaur.com