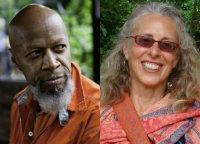 Laughter and Sound Healing Meditation: Bring a Joyful Element to Your Practice

with Swami Nadabrahmananda

Thursday, May 4 • 7:00–9:00 p.m.

Call-and-response chanting, playfully therapeutic laughter-cises, and transportive music, sound, and light language will support your deeper relaxation and self-healing meditation. You will be immersed in ancient gong tones and voice chants, along with a variety of sensitive vibration sounds. Dress comfortably, and bring drinking water and an eye cover or a blindfold for deeper horizontal listening.




$27
Swami Nadabrahmananda is a meditator, laugh master, and cosmic musician. He has performed in concert in Europe, Asia, and the United States. He is a devotee of the late Shri Brahmananda Sarasvati, founder of the Ananda Ashram in Harriman, New York.