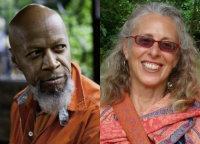 Monday, May 6 • 7:00–9:00 p.m.
Call-and-response chanting, playfully therapeutic laughter-cises, and transportive music, sound, and light language will support your deeper relaxation and self-healing meditation. You will be immersed in ancient gong tones and voice chants, along with a variety of sensitive vibration sounds. Dress comfortably, and bring drinking water and an eye cover or a blindfold for deeper horizontal listening.
$30
Laraaji Swami Nadabrahmanananda is a meditator, laugh master, and cosmic musician. He has performed in concert in Europe, Asia, and the United States. He is a devotee of the late Shri Brahmananda Sarasvati, founder of the Ananda Ashram in Harriman, New York.
Arji "OceAnanda" Cakouros is a sound healer, musician, Usui Reiki master, and dreamwork teacher with a private counseling and healing practice based in Niskayuna, New York. Since 2008 she has enjoyed the deep joy and honor of collaborating with her bliss mate Swami Laraaji Nadabrahmananda in many venues worldwide, offering healing sound events and laughter immersion experiences as well as a great variety of musical performances, many of them in conjunction with other artists. She also served as faculty for Jonathan Goldman's annual International Sound Healing Intensive for the last eight years of its existence.