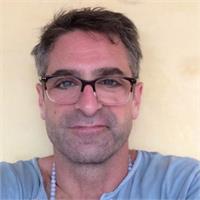 Kundalini Yoga and Meditation: Open Series

with Dr. Erick Gordon

Thursday, April 4–May 9 • 7:00–8:30 p.m.
Open Enrollment: 4/18/2019

Kundalini Yoga, as taught by Yogi Bhajan, incorporates pranayama, mantra, asana, mudra, and meditation to channel and direct energy throughout the body. Also known as "the Yoga of awareness," Kundalini works to develop creativity, intuition, and a deep sense of inner peace. No prior experience is necessary.

Please come prepared for a physically and mentally challenging practice.

Includes Yoga: All Levels

$22 per session
Dr. Erick Gordon is a writer, professor, and Yogi. Over more than 25 years in education, he has taught in a far-reaching range of classrooms, from California to Kathmandu. His many students have included incarcerated youth at Rikers Island, high school students in Rishikesh, India, and thousands of English teachers across the United States. Erick first came to Yoga in the 1990s and has trained in numerous traditions, including Integral, Kundalini, and Iyengar. He is a lifelong educator committed to social justice who lovingly carries the principles of Yoga to all of his work.