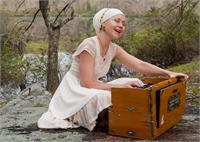 Kirtan with Mirabai Moon: A Soulful Call

with Mirabai Moon

Saturday, February 24 • 8:00–10:00 p.m.

Mirabai Moon's group Mystical Kirtan brings a broad range of sounds and musical styles to the Kirtan experience, making each chant a sonic journey of its own. Crystal singing bowls add a mesmerizing element to the mix, but the most compelling aspect is Mirabai's soulful call, which has been described as a beautiful transmission of the Divine. Her soaring vocal climaxes lift the mantras to transcendent realms, taking the participants along for a mystical ride.

$20 in advance/$25 day of event
After nearly two decades as a singer-songwriter and having made three original albums, Mirabai fell in love with the practice of Kirtan. In 2010 she redirected herself as a bhakta, sharing her love of the Divine with others through devotional chanting. She now tours internationally, leading Kirtans and Bhakti Yoga retreats.
www.MysticalKirtan.com
"Mirabai Moon is a Kirtan soul angel who uplifts the spirit. Her voice is exquisitely tuned, and her warmth fills your heart. Don't miss her!"
—Gary Goldberg of WRPI, In The Spirit Radio