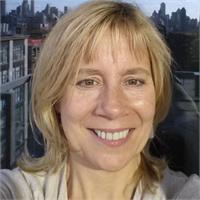 Saturday, January 5 • 2:30–5:00 p.m.
JourneyDance™ is a dance form that combines freestyle and structured movement for a physical and emotional transformative experience. In this workshop you will be offered the opportunity to release last year's limitations and to access through movement your vision for this year. You'll gain a palpable experience of yourself as playful and powerful while moving to inspiring world music. No dance experience is necessary. Come with your heart and your feet to reconnect with your soul.
$32
Inga (Ishwari) Benson, E-RYT 500, LCAT, BC-DMT, M.S., C-IAYT, uses movement to help cultivate body awareness and breath support as a foundation for emotional regulation and self-expression. She is passionate about leading dance with adults as a path to awakening to our deepest truths. She is a Yoga teacher, a Yoga therapist, and a board-certified dance/movement therapist. She has been a Yoga teacher since 2000, practices dance therapy in a clinical setting, and currently supervises dance therapy interns during the school year.
Also with Inga Benson, E-RYT 500, LCAT, BC-DMT, M.S., C-IAYT: