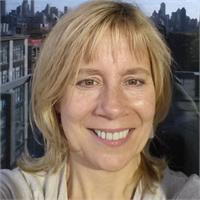 Saturday, July 20 • 1:30–3:30 p.m.
JourneyDance™ is a transformational dance form that combines freestyle and structured movements to inspire you to get out of your mind and into your body. The flow leads participants on a ritual journey of physical and emotional transformation. In this JourneyDance workshop we will focus on play, growing, and rejuvenating. You'll gain a palpable experience of yourself as pure powerful energy while moving to a sound track of inspiring world music. No dance experience is necessary. Come with your heart and your feet to reconnect with your soul and spirit.
feature
$30
Inga (Ishwari) Benson, E-RYT 500, LCAT, BC-DMT, M.S., C-IAYT, uses movement to help cultivate body awareness and breath support as a foundation for emotional regulation and self-expression. She is passionate about leading dance with adults as a path to awakening to our deepest truths. She is a Yoga teacher, a Yoga therapist, and a board-certified dance/movement therapist. She has been a Yoga teacher since 2000, practices dance therapy in a clinical setting, and currently supervises dance therapy interns during the school year.