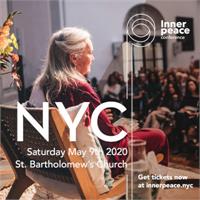 Inner Peace Conference New York

with Eddie Stern

Saturday, May 9 • 9:00 a.m.–5:00 p.m.

In the spirit of Swami Satchidananda's vision for world peace—both inner and outer—we are extremely happy to be partnering with Inner Peace Conference New York, co-hosted by long-time friend of IYI, the yoga teacher Eddie Stern. To help spread our collective engagement with peace practices, we are delighted to offer our community special discounted tickets.

The Inner Peace Conference is a one-day event designed to reconnect people with the great wisdom traditions of the world. We live in a rapidly changing world, and it is a challenge to live a life of connection, in alignment with our deepest purposes.

This conference is designed to address the need of the day and is for anyone at all who is interested in seeking wisdom and learning techniques that can lead to inner peace.

The three main themes for the day-long conference are anchoring, connecting, and integration.

Among the teachers are Sharon Salzberg, Rick Hanson, Radhanath Swami, Satish Kumar, Jana Long, Bob Roth, and many other local spiritual and community activist leaders who are carrying the conversation about inner peace forward.

With the special discount code "INTEGRAL" Integral Yoga students will get $25 off the regular price for The Inner Peace Conference. Have a look at

www.innerpeace.nyc

and insert your discount code into the Eventbrite link to get your ticket!
Eddie Stern is a Yoga teacher, author, and lecturer from New York City. He is known for his multi-disciplinary approach to furthering education and access to Yoga, as well as his teaching expertise in Ashtanga Yoga. He most recently created The Breathing App, which guides the user in a paced breathing exercise that balances the nervous system, helping to improve sleep, and reduce stress and anxiety. One Simple Thing: A New Look at the Science of Yoga is his first solo book.