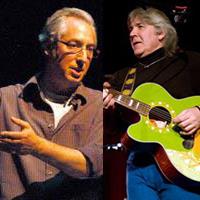 Saturday, February 23 • 7:00–9:00 p.m.
Through live music, exciting visuals, and engaging commentary, this tribute program to "the quiet Beatle" has had audiences on their feet and applauding nationwide. Joshua Greene, author of the best-selling biography on which the tribute is based, teams with the renowned guitarist and vocalist Godfrey Townsend, who has played with some of the greatest names in rock-and-roll history, to create a magical evening of humor, spiritual insight, and love.
This year marks George Harrison's 76th birthday.
$25 in advance, $30 day of event
Joshua Greene (Yogesvara) is an author and filmmaker, whose documentaries on Holocaust history air on PBS and Discovery. He spent 13 years in ashrams before returning to New York in 1982. His next book, Swami in a Strange Land, is a biography of his late teacher Bhaktivedanta Swami Prabhupada (March 2016, Mandala Publishing).
Godfrey Townsend
, guitarist and vocalist, has played with some of the greatest names in rock-and-roll, including John Entwistle, bassist of the Who; Jack Bruce, bassist and vocalist of Cream; Dave Mason, guitar/vocalist of Traffic; and Alan Parsons. More information is available at
www.godfreytownsendmusic.com
.