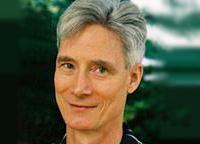 Thursday, September 26 • 7:00–9:00 p.m.
Pulling a hamstring hurts! In this workshop you will identify the action of your hamstrings and learn to use antagonist muscle pairs to facilitate stretch, engage the quadriceps to lengthen with strength, use restorative practices to promote healing, and recognize the limits of length while extending those limits safely. By finding ways to prevent injury due to strain or stress and assist in healing if you have a hamstring injury, you will help your hamstrings and improve your Yoga poses. Includes Hatha: All Levels
$30
Madhavan, RYT 500, C-IAYT teaches Hatha Yoga and meditation and practices therapeutic Yoga in New York. He holds a B.A. in psychology and an M.A. in anthropology and Southeast Asian studies. He is an IYI Yoga teacher, RYT 500, and a certified astrologer.
Also with Madhavan, RYT 500, C-IAYT: