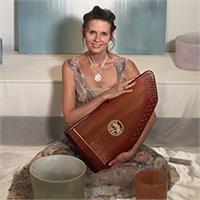 Healing Harp Nidra: A Journey to Peace

with Shelly Reef

Sunday, December 16 • 2:00–4:00 p.m.

Bathe in the healing sound waves of therapeutic harps as you are guided to gentle bliss. Harps create an environment of high-frequency harmonious sound, bringing restoration at the level of the subtle energies and positive transformation at the level of the external self. Less stress, more happiness, greater physical health, and inner peace arise from meditating and relaxing to the sounds of the harps. Relax and journey to your deepest, most healing inner sanctuary.

$27
Shelly Reef is an empath who travels the globe bringing sound and light to the hearts of humanity. She is a lifelong meditator who has taught in more than 20 countries and the author of the soon-to-be-released book Silent Monkey: Meditation for the Wildest of Minds.