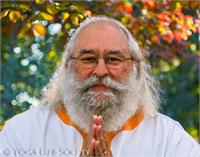 Heal the Fractures That Block Peace and Harmony: Discover the Benevolent Universe

with Rev. Jaganath Carrera

Saturday, April 8 • 2:30–4:30 p.m.

To realize Yoga's promise to bring wholeness and harmony, we need to make the journey beyond the surface meaning of Yoga's principles and practices. Follow it to a new vision of life, a reality that can heal inner wounds and help us deal with the chronic difficulties that plague our world. We will explore six common—but false—divisions that fracture life, the divisions between ourselves and others; ourselves and nature; body, mind, and spirit; the self we present to the world and the self we hide from others and ourselves; life and death; and the self as body/mind and the true Self, our true nature.

$27
Reverend Jaganath Carrera is the founder and spiritual head of the Yoga Life Society and author of Inside the Yoga Sutras: A Comprehensive Sourcebook for the Study and Practice of Patanjali's Yoga Sutras and Awaken: Inside Yoga Meditation.
Reverend Jaganath has been teaching all facets of Yoga since 1973 at universities, prisons, Yoga centers, and interfaith programs here and abroad. He was a principle instructor of Hatha and Raja Yoga for the Integral Yoga Teacher Training Certification Programs for over twenty years and co-wrote the training manual used for that course. He established the Integral Yoga Ministry and co-developed the highly regarded Integral Yoga Meditation and Raja Yoga Teacher Training Certification programs.
He served for eight years as chief administrator of Satchidananda Ashram -Yogaville and founded the Integral Yoga Institute of New Brunswick, NJ.
Reverend Jaganath holds a Masters Degree in Acupuncture. He served as clinic supervisor, instructor, and Dean of Academics at the Eastern School of Acupuncture where he also helped develop its highly regarded curriculum.
A master bodyworker, he is certified in medical massage and Reflexology and is proficient in meridian massage and Therapeutic Touch. www.yogalifesociety.com