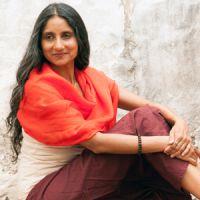 Hanuman Chalisa: Chant Workshop with Nina Rao

with Nina Rao

Saturday, October 21 • 4:00–6:00 p.m.

Here is an opportunity for beginners and experienced chanters to dive deep into the practice of chanting, as a group, this 40-verse prayer in praise of Hanuman. The prayer is from the Indian tradition, with Hanuman invoked as the very breath of the Divine—our own Divine nature. Many believe that chanting this prayer gives us the strength to get through difficult times with compassion and grace. We will talk about the story of Hanuman in the Ramayana, read through the prayer to review pronunciation and translation, and chant the prayer together for an auspicious number of repetitions. Word sheets will be provided.




$20 in advance, $25 day of event
Nina Rao spent her childhood living in and moving between many countries around the world. When she settled in New York, she began to work in the banking world, switched to organizing and leading photographic wildlife safaris in Africa and India, and, for many years now, has been Krishna Das's business manager and assistant. In 2007 she recorded the track "Nina Chalisa" on Krishna Das's CD Flow of Grace: Chanting the Hanuman Chalisa. In January 2013 she released her debut album, Antarayaami: Knower of All Hearts. The double CD includes devotional Kirtan, bhajan, and a variety of Hanuman Chalisa melodies, among them a duet with Krishna Das. Nina regularly leads Kirtan, chants the Hanuman Chalisa, and sings for Yoga classes in Brooklyn and beyond.