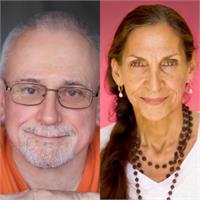 Saturday, July 13 • 5:30–7:00 p.m.
Guru Poornima is always a special occasion. During the Global Garland year of celebrating IYI's founder and our teacher, Sri Swami Satchidananda, we will have an even more enlightening event. That "apostle of peace" always taught that the true guru is within each one of us, urging us to love ourselves and guiding us toward the peace and happiness that are our birthright. On this evening, we will remember and honor our teacher and the teachings that have brought much joy to millions throughout the world. May be attended on a drop-in basis with no preregistration.
By donation
Swami Chidananda is a monastic and a longtime disciple of Sri Swami Satchidananda and has managed the finances for Integral Yoga's ashrams, institutes, and teaching centers for decades. He teaches Hatha Yoga and leads study groups on Yoga and Buddhist teachings and philosophy. Swami Chidananda also conducts spiritual pilgrimages to India and Nepal.
Rev. Laksmi Scalise, RYT 500, IYM, began a Yoga practice more than 40 years ago. She is involved with the healing arts as a sound healer, gong master, Reiki master, dowser, and astrologer. Laksmi studies under and assists Grand Gong Master Don Conreaux. She is a chakra-balancing practitioner at the Integral Yoga Wellness Spa.