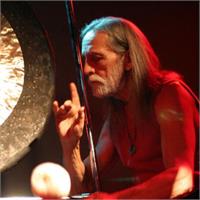 Gong Yoga of Holistic Resonance Training
A Journey in Learning and Instructing for All Levels with Grand Gong Master Don Conreaux and Associates
Part One: Thursday–Monday, December 12–16
Part Two: Thursday–Monday, January 16–20
Part Three: Thursday–Monday, February 13–17
Thursdays • 6–9 p.m.; Fridays–Mondays • 10 a.m.–5:30 p.m.
There is something about a gong as an intelligent entity that once it is produced seems to have an inborn longing for like-hearted companions.
—Grand Gong Master Don Conreaux
Gong enthusiasts of all levels have asked for a longer training and the chance to learn more from Don Conreaux, his certified gong masters, and one another.
The 2019–2020 sessions are an answer to that call—three long weekends of gong bliss.
NEW THIS TIME!
THE YOGA KRIYA METHOD OF PLAYING GONG
Playing the gong using the breath, the vocal seed, the mudra, and related essence
Don Conreaux says that in this new Aquarian cycle, the emphasis is very strong on the exponential growth of gong consciousness. Teaching and learning improvisation and channeling offers an opportunity to discover gong-playing mathematics, or how to use the numbers zero through nine in different combinations. These two formulas are built into every gong and are touched upon when one is improvising in a random pattern, but the mathematics of using them as a score played on the gong face leads to a universal overtonal pattern that is part of the magic of tone.
The 39 exercises of holistically resonant Gong Yoga teach you how to sequence sound-healing sessions that remedy and/or prevent physical or emotional problems and diverse afflictions. You will also explore and use essential oils and hand mudras to form a complete synthesis.
This ever new adventure of gong consciousness combines hand mudras and flower essences with the gong as part of the Samadhi Dance Yoga of Kundalini. These modalities holistically interrelate in each part of the course.
Part One:
Ascent from Novice to Apprentice
Thursday–Monday, December 12–16
The strokes are learned first by the gong master novice from master journeymen and journeywomen. Self-assessment in practice is at the core of gong mastery.
Teaching others to be gong teachers who in turn teach others to be gong teachers is the "way of the gong."
—Grand Gong Master Don Conreaux
Beginning Gong Yoga Kriya training
Shruti singing: stage one
The fast track of headphone gonging
All 18 areas
Part Two:
Ascent from Apprentice Novitiate to Apprentice Journeyman
Thursday–Monday, January 16–20
The learned strokes are to be taught by an apprentice teacher to a novice student. Interaction between all students creates a simultaneous reaching both outward and upward while also reaching inward and downward.
In the ancient tradition of obtaining true mastership, the strokes are taught to another on the ladder of learning.
—Grand Gong Master Don Conreaux
Intermediate Gong Yoga Kriya training
Shruti singing: stage two
All 18 areas
Part Three:
Ascent from Apprentice Journeyman to Master Journeyman
Thursday–Monday, February 13–17
It is the sacred performance rite of passage that also choreographs sonically each ascension gonging.
Full mastership is like being a channel for the sap of the tree of mastery to flow from root to trunk to branch to leaf.
—Grand Gong Master Don Conreaux
Advanced Gong Yoga Kriya Teacher Training
Shruti singing: stage three
The masked gong archetype tratakam playing

hidetd

Feature
$1,512 Discount of $150 for Yoga teachers and bodywork practitioners
Don Conreaux, formerly known as Baba Don and Guru Jagat, was one of the five original Kundalini Yoga Teachers designated by Yogi Bhajan in 1969. Don also studied the gong writings of Dane Rudhyar. He established the Nanak Dwara Ashram Teacher Training, which ran from 1970 to1976 in Phoenix, Arizona. His very first teacher, when he was a teenager in 1952, was Paramahansa Yogananda. Don Conreaux received his Kriya initiation in 1953 and has spent decades teaching, traveling, and sharing the depth and beauty of sacred gongs.
Also with Grand Gong Master Don Conreaux and Associates: