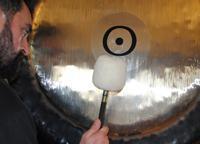 Sunday, January 20 • 11:00 a.m.–5:00 p.m.
Integral Yoga and Grand Gong Master Don Conreaux—along with senior teachers he has trained and certified—invite you to spend an auspicious day enveloped in the vibrations of the gong. The day will include gentle Yoga poses accompanied by the gong, the healing energy of Reiki, a journey into deep relaxation, and some lessons in making the gong a part of your life. We will come together to create a communal prayer and wishes for our world. We will have small sacred gong healing circles and share our experiences so that together and individually we may open our hearts. Each participant receives a 10% discount on singing bowls, tingshas, tuning forks, and books on sound healing at the Integral Yoga Shop.
11 a.m. Arrive at IYI; Introductions and Opening Circle
11:15 a.m. to 12:30 p.m. Yoga Class and Gong Bath
12:30 to 2 p.m. Lunch Break
2 to 3 p.m. The Meaning of the Gong: Talk by Don Conreaux
3 to 4 p.m. Reiki Circle/Individual Reiki and Gong Healing
4:00 to 4:45 p.m. Gong Bath
4:45 to 5 p.m. Sharings and Closing Circle
$95
Don Conreaux, formerly known as Baba Don and Guru Jagat, was one of the five original Kundalini Yoga Teachers designated by Yogi Bhajan in 1969. Don also studied the gong writings of Dane Rudhyar. He established the Nanak Dwara Ashram Teacher Training, which ran from 1970 to1976 in Phoenix, Arizona. His very first teacher, when he was a teenager in 1952, was Paramahansa Yogananda. Don Conreaux received his Kriya initiation in 1953 and has spent decades teaching, traveling, and sharing the depth and beauty of sacred gongs.
Also with Grand Gong Master Don Conreaux and Associates: