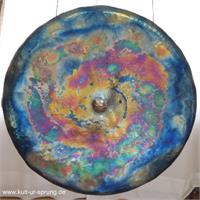 Saturday, January 25 • 7:00–9:00 p.m.
The Age of Aquarius invokes fluidity, change, and opportunities, a world united as one in One. Join us for a cross-cultural harmonic collaboration featuring the prominent gong master Don Conreaux and Martha Collard, the founder of Red Doors Studio, in Hong Kong, accompanied by her magnificent Age of Aquarius gong, made by the master German silversmith Martin Blase. Feel the peace, and become the harmony to heal the world.
$30
Don Conreaux, formerly known as Baba Don and Guru Jagat, was one of the five original Kundalini Yoga Teachers designated by Yogi Bhajan in 1969. Don also studied the gong writings of Dane Rudhyar. He established the Nanak Dwara Ashram Teacher Training, which ran from 1970 to1976 in Phoenix, Arizona. His very first teacher, when he was a teenager in 1952, was Paramahansa Yogananda. Don Conreaux received his Kriya initiation in 1953 and has spent decades teaching, traveling, and sharing the depth and beauty of sacred gongs.
Martha Collard is the founder of Red Doors Studio, in Hong Kong. It is the largest meditation center in Asia and a premier center for gong training, performance, and instruments. Martha has lived in Asia for more than 40 years, most of which she spent in the field of corporate consulting in the area of personal effectiveness for Fortune 200 companies. Her most recent assignment was to create a holistic wellness platform for a high-end retail group with a staff of 5,400 in Greater China. A longtime Yogi, the founding chairman of the Yoga Society of Hong Kong, and the founder of Namaskar magazine, as well as the Asia representative for the Labyrinth Society, she has long held an interest in alternative practices to promote self-healing. With a focus on meditation gongs, walking meditation in labyrinths, and Kundalini Yoga, she works with individuals, families, corporations, and the community to elevate energy, shift mind-sets, and make a difference.