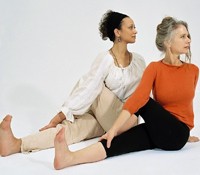 Fundamentals of Integral Yoga: 4-Week Course for Beginners

with Tim Satyam Groen

Thursday, May 4–25 • 6:30–8:30 p.m.

Working weekly with the same teacher, who will welcome questions and personally assist you, you'll become comfortable with all of the poses in the Level I class, as well as deep relaxation, Yogic breathing, and meditation. The course will fully prepare you to attend regular classes at IYI and/or practice on your own. Includes Yoga: New Beginners




$80
Tim Satyam Groen first started coming to Integral Yoga for classes is in the late 90's. He has since been trained (in Rishikesh, India) to teach classical Hatha, and is also an Integral Yoga certified Raja Yoga and Intermediate / Level II teacher. He feels honored to be teaching in the lineage of Sri Swami Satchidananda. Tim's goal, as a student and a teacher both, is to move the body to clear the path for an unhindered flow of energy/prana, and to help create the conditions for a peaceful mind.