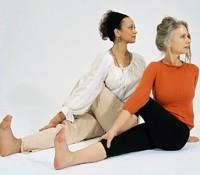 Fundamentals of Integral Yoga: 4-Week Course for Beginners

with Vimukti Victoria Aslan, RYT 500

Saturday, January 26–February 16 • 10:30 a.m.–12:30 p.m.

Working weekly with the same teacher, who will welcome questions and personally assist you, you'll become comfortable with all of the poses in the Level I class, as well as deep relaxation, Yogic breathing, and meditation. The course will fully prepare you to attend regular classes at IYI and/or practice on your own. Includes Yoga: New Beginners

$90
Vimukti Aslan, E-RYT 200, RYT 500, is an Integral Yoga Levels 1, 2, and 3 and Gentle Yoga instructor. She is certified in Therapeutic Yoga under Cheri Clampett and in Yoga of Recovery under Durga Leela. Vimukti is a professional dancer, has a black belt in Aikido, and is a certified Yoga therapist and stress management educator.