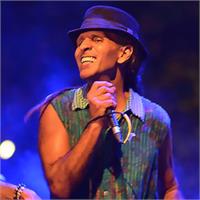 Fantuzzi Live!: Mystic Heart Songs, Kirtan, and Storytelling

with Fantuzzi

Saturday, August 3 • 7:30–9:30 p.m.

From the original Woodstock to India's Kumbh Mela festivals, from Bhakti fests to Shakti fests and more, Fantuzzi's energy transforms and uplifts. A unique combination of spiritually inspired mystic rhythms, Latin, reggae, funk, and heart songs, Fantuzzi's sound is sure to elevate your soul and move your body. Don't miss this rare chance to experience his incredible energy, spirit songs, and heart connection. Integral Yoga is excited to welcome this delightful artist to its Lotus Room.

$20 in advance/$25 day of event
Fantuzzi is a 21st century troubadour, shaman-showman, rainbow gypsy, and inspiration, whose African-Caribbean roots and phenomenal international travel experiences meld in ecstatic, dramatic, transformational, interactive performances. Born to Puerto Rican parents in Spanish Harlem in the 1950s, a young and inquisitive Fantuzzi discovered the joy of dancing, singing, and performing, using those as a means of escaping the New York City streets. Pursuing a journey of ecstatic exploration and a mission to share joy, love, and delight in life with others wherever and whenever he can, Fantuzzi has been a part of many musical and spiritual-consciousness festivals for years. He was at the first Woodstock festival, and his iconic photograph was used by Newsweek magazine on its front cover to symbolize the essence of the sixties generation.