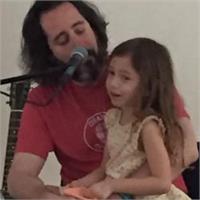 Sunday, April 2 • 11:00 a.m.–1:00 p.m.
David Newman (Durga Das) will gather with the children and sing devotional Indian chants (Kirtan) in an uplifting, spirited, and playful way. The kids will enjoy singing and dancing and learning new mantras in a fun, inviting, and celebratory atmosphere. Join us for this Kirtan concert for all ages!

Family Yoga, hosted by Lakshmi Pidel, is a wonderful opportunity for the entire family to practice Yoga, experience community, and share in fun activities. Bring your open heart, and wear comfortable clothing to enjoy special activities that are new and different each month but will always include Yoga poses, songs, and art. Includes Yoga: All Levels
$15 for one adult and one child, $5 each additional person
David Newman is a renowned Kirtan chant artist, singer and songwriter of sacred music, best-selling author, and inspirational teacher. David, also known as Durga Das, travels extensively sharing his music and teachings on the path of love as a vehicle for spiritual awakening. He has released numerous CDs and is the author of The Timebound Traveler. David is also the founder of the Stay Strong Project and Yoga On Main. He has been featured on NPR and in the Washington Post and Yoga Journal, among other places. David lives with his family just outside of Philadelphia.
"David Newman is reminiscent of George Harrison, Dylan, and Paul Simon when they are in soul mode."
LA Yoga Magazine
"At David Newman's concert, the event's volume knob seemed to go from low-level joy to full-on bliss, the kind you feel after climbing a gorgeous mountain or ending a tough run on a strong sprint."
Washington Post
Also with David Newman (Durga Das):