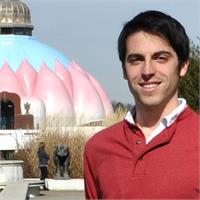 Eye Yoga Workshop: Improve Your Eyesight and Insight Naturally

with Nathan Oxenfeld

Thursday, July 18 • 6:30–8:30 p.m.

Eyeglasses, contact lenses, and surgeries are not the only ways to care for your eyes. There are simple and natural ways to boost your eye health and address vision problems in a holistic way combining Yoga, the Bates Method, and more. Attend this workshop to learn three simple steps to achieve clearer eyesight through physical eye Yoga practices and clearer insight through mental meditations and visualizations.

No Yoga experience necessary. Please bring eyeglasses instead of contact lenses.
Everything begins in the mind. If you want to see clearly, you need clear vision.
—Swami Satchidananda Feature
$27
Back in 2011, when Nathan Oxenfeld was going through the Teacher Training program at Yogaville, he depended on glasses for seeing into the distance. He had myopia and astigmatism and had been wearing strong glasses since the third grade. He stumbled across a book in the Yogaville distribution warehouse called Take Off Your Glasses and See, and the rest is history. He improved his vision using the methods that he now teaches in his workshops.