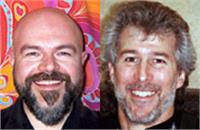 Explore the Pelvic Floor (and More!): Find the Floor of Your Core

with Richard Sabel and Bill Gallagher

Saturday, February 23 • 1:30–5:30 p.m.

The pelvic-floor muscles often seem mysterious and beyond conscious control, yet they are an integral driving force behind human functioning. By bringing awareness, strength, and suppleness to these muscles, you can remedy incontinence, alleviate pain (especially in the pelvis, hips, knees, and back), breathe more efficiently, calm anxiety, cultivate posture and movement habits that improve core strength, and facilitate sexual function and fulfillment. This user-friendly program will familiarize you with key parts of the anatomy and common pelvic-floor conditions. Join us and learn gentle Yoga, Tai Chi, Qigong, and Feldenkrais practices to integrate this important part of yourself fully. Includes Yoga: All Levels

$64
Richard Sabel
, M.A., M.P.H., O.T.R., G.C.F.P., is the educational director of East–West Rehabilitation Institute, a certified Feldenkrais practitioner, and an assistant professor in occupational therapy at SUNY Downstate. Richard has successfully integrated Western therapeutic practices with Eastern philosophy into a distinctive therapeutic approach to help clients re-engage in meaningful activities that have been limited by pain and disability. He recently received a grant to coordinate the Easy Does It = SAFE program at two senior centers. This program is designed to promote strength, awareness, flexibility, and energy, with a focus on health concerns such as balance, pelvic health, breath, and well-being.
www.eastwestrehab.org
Bill Gallagher
, P.T., C.M.T., C.Y.T., is director of the East–West Rehabilitation Institute, a master clinician in Integrative Rehabilitation at Mount Sinai Medical Center, and an instructor in clinical physical therapy at Columbia University. By weaving the physical therapy traditions of the East (Yoga, Tai Chi, Qigong) together with therapies of the West (Feldenkrais, Alexander Technique, physical therapy), Bill helps maximize function, minimize pain, and prevent falls. He sees a broad spectrum of patients in his practice, including people with incontinence, pelvic and back pain, coccydynia, and prolapse and elders at risk of falling.
www.eastwestrehab.org
Group programs for consumers and health professionals.
www.eastwestrehab.com
One-on-one work with patients.
Also with Richard Sabel and Bill Gallagher: