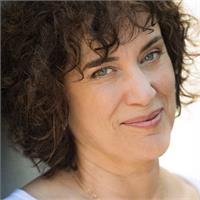 Experience the Yoga Sutras of Patanjali as Art: A Gallery of Paintings and Soulful Conversation

with Melissa Townsend and Rev. Sam Rudra Swartz

Friday, November 8 • 7:00–9:00 p.m.

"The power of Sanskrit is to open ever deepening awareness in the heart of our being. That inner beauty is revealed to us by Melissa Townsend in her extraordinary paintings." —Krishna Das

When the artist, Sanskrit teacher, and psychic Melissa Townsend set out to work with the Yoga Sutras of Patanjali, the ancient scripture of Yoga, she decided to paint them as a way to anchor her to the project. The resulting paintings are not illustrations but are the Sutras as art, and they are featured (along with her translations and commentary) in her books The Yoga Sutras of Patanjali—A Visual Meditation (Book One and Book Two). Come take advantage of the rare opportunity to see the actual paintings on display, and enjoy an evening of art and conversation about the Yoga Sutras. Paintings from The Yoga Sutras of Patanjali—A Visual Meditation: Book Two, Sadhana Padah will be on display, and the author and artist Melissa Townsend, together with Integral Yoga's resident Yoga Sutra scholar and teacher Rev. Sam Rudra Schwartz, will lead the discussion, with plenty of time for Q & A.

$35
Melissa Townsend is an artist, Yoga practitioner, Sanskrit teacher, and internationally known psychic. Her translations of the Yoga Sutras, The Yoga Sūtras of Patanjali—A Visual Meditation (Book One and Book Two are currently in print), combine gorgeous, powerfully evocative images for each Sutra, along with clear, accessible translations and commentary. The paintings are not illustrations of the Sutras but are the Yoga Sutras as art, providing a sophisticated commentary on and subconscious gateway into the meaning of the Yoga Sutras.
Reverend Sam Rudra Swartz
, an Ordained Integral Yoga Minister. Also know as "The Sarge," is a KAY (Kidding Around Yoga) Trainer, and has a previous ordination as an Interfaith Minister from the All Faiths Seminary, New York City (2004). He is certified in Integral Yoga from Satchidananda Ashram-Yogaville and The Integral Yoga Institute of San Francisco as a Hatha Yoga (2011) teacher, having taken the Accessible-Yoga Teacher Training in San Francisco, as well as a Meditation (Yogaville, 2011), and a Raja Yoga Teacher (IYSF, 2012). His teaching home base is the Integral Yoga Institute of New York and has been fortunate to travel internationally offering classes and training's. As a minister he has performed wedding ceremonies as well as other life cycle events in many places both locally in the New York/New Jersey area as well all around the U.S.A.
He received his Bachelor of Music in Brass Performance, with a Tuba Concentration from Boston University's College of Fine Arts Music School in 1996 and is an accomplished musician having performed as a soloist in Carnegie Hall and was an active busker (a street musician). Currently he uses his music training with his voice serving as a prayers leader (a lay cantorial leader) at the Conservative Synagogue of Fifth Avenue in New York City.
Rudra, earned his certification to "kid around," as a Children's Yoga Teacher from Kidding Around Yoga in 2012. He serves as a Counselor and Assistant Director of Camp Yogaville, at Satchidananda Ashram Yogaville Virginia's summer camp, where he was bestowed with the loving nickname, "The Sarge", for showing an ability to discipline the children in a loving way. He continues to serve there annually, as well as participate in the Kidding Around Yoga Camp in Florida in the same capacity and lead Kidding Around Yoga trainings in New York and other places both domestically and internationally.