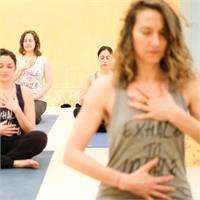 Exhale to Inhale Trauma-Informed Teacher Training

with Tara Tonini

Saturday–Sunday, July 13–14 • 10:00 a.m.–6:00 p.m.

Cost: $475, $425 Early bird price through June 20

Are you interested in learning more about the effect of trauma on the mind and body? As a teacher or healer, have you had a student's or a client's trauma triggered during a session? Get the resources and tools you need to support and resource people appropriately when that happens.

The training, facilitated by the Exhale to Inhale teacher trainer Tara Tonini, includes 14 hours of lecture and experiential learning in neuroscience, trauma theory and Yoga philosophy. Participants will receive a training manual, access to the ETI online community for networking, continuing education credits, and a certificate of completion (Yoga Alliance CE approved).

All are welcome! You do not need to be a Yoga teacher to attend. Attendees will gain tangible Yoga-based trauma-informed tools, learning how to customize Yoga and healing sessions to make them more sensitive to those who have experienced trauma and inclusive of all communities.

"I came in with some basic background on trauma-informed Yoga, so I was unsure about how much new information I would learn. I ended up learning more than I ever imagined and came out inspired, touched, and with a more nuanced and deep understanding of trauma-informed Yoga than I'd thought possible."

"Thank you for a fantastic teacher training weekend! I really enjoyed the experience. I wish to express kudos for bringing us together as a community, creating a safe space for us to be open and vulnerable, and delivering high-quality instruction. The class you led us through helped me understand how a trauma-informed Yoga class matters. I could feel the difference."

"I think every Yoga teacher needs to have an understanding of how to hold space for someone who has experienced trauma because they can be in any class."

This training is solely for professional development and is not intended as an intervention for personal healing. Please keep in mind that talking about trauma, even in the context of professional training, can be triggering. Before attending the training be sure that you have the personal support you need.
Tara Tonini is a lover of nature, movement, color, and creativity. She discovered Yoga as a means of recovery from a relationship of domestic violence. Through her dedicated practice, Yoga provided a way for her to reduce stress and gain strength and clarity in her daily life. Tara is a Yoga and meditation teacher, birth doula, and master Reiki healer and is completing her master's degree in Chinese medicine. Tara approaches each healing modality through a trauma-informed lens.
Tara has studied with Bessel Van Der Kolk, M.D., David Emerson, Jen Turner, Hala Khouri, Jillian Pransky, Hari Kaur Khalsa, and Lisa Danylchuk, LMFT, E-RYT. Under mentorship with Lisa Danylchuk she has become a founding member of the Center for Yoga and Trauma Recovery.
As director of curriculum development and mentorship at Exhale to Inhale, Tara strives to build a community where survivors and teachers can connect and experience the healing art of Yoga.