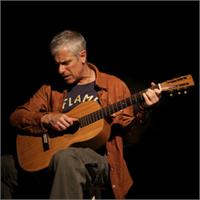 Ecstatic Chanting: An Intimate Evening with Jai Uttal and Friends

with Jai Uttal

Friday, November 1 • 7:30–9:30 p.m.

Cost: $25 in advance/$30 day of event




"Kirtan is the calling, the crying, the reaching across infinite space—digging into the heart's deepest well to touch and be touched by the Divine Presence."

Embark on a vocal journey through the sacred sounds of ancient India. With call-and-response group chanting and storytelling, Jai Uttal creates a space of invocation, prayer, and heartfelt expression. This meditative practice of calling to the Divine creates a bridge between the individual and the eternal, opening the heart and welcoming the spirit. By singing these prayers and expressing a full range of emotions through our voices, we join a stream of consciousness and devotion that has been flowing for centuries.
No previous experience is needed. This is an exploration of the heart, independent of vocal or musical technique.
Jai Uttal, a Grammy-nominated sacred-music composer, recording artist, multi-instrumentalist, and ecstatic voJai Uttal, Grammy nominee, Kirtan artist, and world music pioneer, has been a leading influence in the Bhakti tradition for the past 50 years. Jai considers devotion to be the core of his musical and spiritual life, and he wholeheartedly shares his passionate heart through his voice and songs.
Jai creates a safe environment for people to open their hearts and voices.