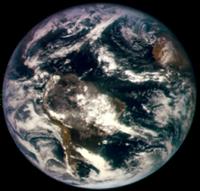 Saturday, April 22 • 5:30–6:30 p.m.
In ancient Celtic teachings, the day was considered a prayer in itself. Simply to have a new day was a mark of holiness and good fortune. That is no longer just a quaint old notion. Every day right now is a form of energetic, even spiritual, currency. If we say, "Earth Day," we infuse this annual day of recognition with a new urgency, a new mindfulness. In this Satsang with Nadiya we will honor Earth Day in prayer, meditation, and discussion, along with our blessed prasad of food and water. All Earthlings are welcome.
By donation
Nadiya Nottingham, RYT,
has been a teacher at IYI for 20 years. She is an advanced Hatha Yogini, a certified Qigong teacher, and a Celtic priestess of Bridget, Ireland's triple goddess. Her meditation practice began almost 40 years ago in her native Ireland, where the beautiful sea and land were her first teachers. Nadiya is a trained shamanic practitioner who offers shamanic-healing sessions through the Integral Yoga Wellness Spa.
www.nadiyanottingham.net