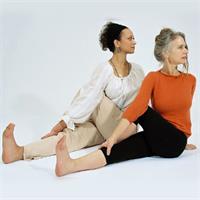 Discover Integral Yoga: 4-Week Fundamentals Course

with Janaka

Monday, April 1–22 • 7:00–9:00 p.m.

The Integral Yoga class is a unique and complete Yoga experience that combines poses, relaxation, breath work, and meditation to revitalize body, mind, and spirit. Newcomers to Yoga and even experienced practitioners can benefit from this full introduction to and explanation of the class that has been enjoyed by thousands of people. You'll work for four weeks with a master teacher of this very special class and come away refreshed and ready to practice for life. Includes Yoga: New Beginners

$90
Janaka graduated from Teacher Training in 1993 and Advanced Teacher Training in 1994 and has been teaching the Hatha Level I class ever since. Janaka feels that everyone has his or her own Yoga and that the individual person is the most important part of that Yoga. As he watches you in class, he witnesses you doing "you Yoga," integrating your body, mind, and spirit in the Integral Yoga tradition. Janaka is also a licensed massage therapist, Shiatsu practitioner, and architect.