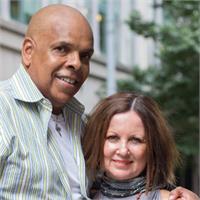 Couples Meditation Workshop: Nurture Yourselves and Your Relationship

with Kurt and Ann-Marie (Ambā)

Friday, February 14 • 7:00–9:00 p.m.

Relationships combine intimacy, friendship, and partnership. Through meditation you can bring all three elements into balance. Heart practice rests on the nurturing of kindness and understanding toward both yourself and your partner. Learn how meditation can make you emotionally robust and capable of giving and receiving more. Find the tools to resolve negative emotions, patterns, and behaviors that get in the way of long-lasting bliss. We will practice breathing, sitting, and walking meditation.

$54 per couple
Amba, E-RYT 500, is passionate about the simplicity and power of the Integral Yoga system and she believes that hatha yoga and meditation can help her students to unleash their inherent health, confidence, and joy. She is certified in Hatha Yoga Level I, Raja Yoga, Yoga for Teens, and Adaptive Yoga. Originally from Sydney, Australia, Amba channels the elements of sun, sea, and fun into her classes.
Amba and Kurt Mahoney are long-term meditators who fell in love in Kurt's homeland, Jamaica.