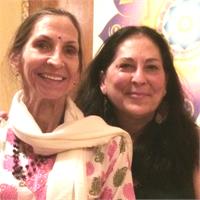 Friday, February 28 • 7:00–9:00 p.m.
All things alive vibrate. Allow yourself to be immersed in the healing sounds and vibrations of sacred gongs, Himalayan singing bowls, Native American flutes, percussion, and other world instruments. Experience the deepest level of relaxation, clearing the mind and body of negativities that cause pain, anxiety, and dis-ease. Realign and harmonize yourself to a state of inner peace and connectedness. As we participants lie down, we set our intentions and let the vibrations of the sacred sounds help us access our inner wisdom. Wear comfortable clothes.
$30
Rev. Laksmi Scalise, RYT 500, IYM, began a Yoga practice more than 40 years ago. She is involved with the healing arts as a sound healer, gong master, Reiki master, dowser, and astrologer. Laksmi studies under and assists Grand Gong Master Don Conreaux. She is a chakra-balancing practitioner at the Integral Yoga Wellness Spa.
Lois Harrison is a healing sound practitioner, a nationally certified massage therapist, and universal healing Tao instructor. She has played the flute since the age of 12 and utilized sound frequencies during her own healing journey. In 2008 Lois became a certified sound practitioner at the New York Open Center's Sound and Music Institute, has studied with Gong Master Don Conreaux and other leading sound healers, and has led workshops and sound journeys throughout the United States and England. She continues to share her experiences passionately with others through private practice, events, and workshops.