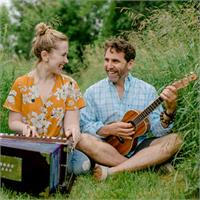 Connecting to Joy: Kirtan with Lana Narada

with Lana and Narada

Saturday, July 20 • 7:30–9:30 p.m.

Narada and Lana come together in voice and heart to share the beauty of Bhakti Yoga. Both accomplished solo artists, multi-instrumentalists, and teachers, they present a Kirtan rich in harmony, rhythm, and soul. To be with them is to catch their joy, which is contagious. While Lana's melodic voice soars, Narada's drumming grounds and inspires. Their signature combination of harmonium, drums, and ukulele and their blending of Sanskrit and English mantras create a playful and uplifting experience.

feature

$15 in advance/$20 day of event
Lana and Narada have been making music together since 2015. Lana hails from Canada and has led Kirtan for ten years. Narada also drums with Jai Uttal, David Newman, Girish, and Sean Johnson and the Wild Lotus Band. They both have two albums of sacred music and have toured internationally sharing chant.