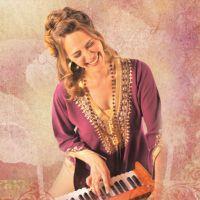 Coming Home: An Evening of Sacred Chant

with Carrie Grossman

Saturday, March 24 • 8:00–10:00 p.m.

Integral Yoga is delighted to welcome Carrie Grossman, lifelong student and practitioner of the mystical traditions, who brings a modern, feminine voice to ancient wisdom. Join Carrie for an evening of bhakti, the Yoga of love. For millennia, seekers have used chanting to awaken the Divine presence within. Drawing on this rich tradition, we will dive deep into the heart through sacred music, story, and meditation. Come sing, pray, laugh, and cry as you journey home to the peace and grace of your true self.

$20 in advance, $25 day of event
Carrie Grossman (Dayashila) is a devotional singer and writer whose offerings explore the wild terrain of the heart. A lifelong student of the world's wisdom traditions, she has made albums that include Soma-Bandhu: Friend of the Moon, The RamSessions, and Pranam.
Also with Carrie Grossman: