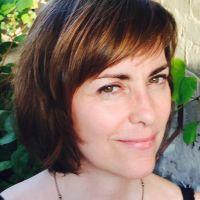 Saturday, May 6 • 10:30 a.m.–1:00 p.m.
It is a myth that pelvic floor strengthening is the only way to prevent pelvic floor issues. We need a strong but supple pelvic floor that supports a range of movements, including standing, lifting, and coughing. Develop an understanding of how the anatomy of pelvic floor muscles and their relationship to the thoracic diaphragm creates core stability. Using Yoga and a few specialized exercises, you will learn how to balance these important core muscles and enhance their everyday use. Includes Hatha: All Levels
$35
Leslie Daley
, M.F.A., RYT 500, OTR/L, is an occupational therapist and New York‒based IYI teacher trained in Hatha Yoga, Restorative Yoga, and Yoga-based stress management. She specializes in manual therapy, myofascial release, stress management, therapeutic Yoga, and pelvic-floor health.
www.LeslieDaleyOT.com