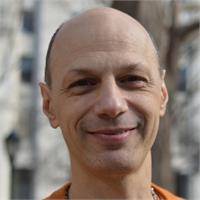 Breaking Free: The Law of Karma and Free Will

with Prem Sadasivananda

Wednesday, May 1 • 7:00–9:00 p.m.

What is karma? What is its relationship with freedom? Is everything predetermined? What is the karma from a Vedantic point of view? These are some of the questions Prem Sadasivananda will be discussing in a talk sure to engage your mind while touching your heart and spirit.

$30
Prem Sadasivananda, a scholar of Vedantic philosophy, Hindu scripture, and Sanskrit, is well known for his lively and humorous talks, his accessible teaching style, and his unique ability to bring the ancient Yogic scriptures and texts to life in the modern world. Prem began his spiritual journey as a sannyasin (monk) for 24 years in the Sivananda organization. Prem is a direct and long-term disciple of Swami Vishnudevananda.