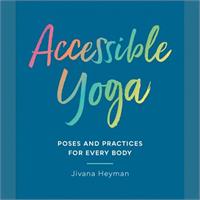 Book Launch: The New York Debut and First On-Sale Date of Accessible Yoga

with Jivana Heyman, E-RYT 500

Saturday, October 12 • 7:00–9:00 p.m.

By the creator and founder of the phenomenal Accessible Yoga movement.

Join the author Jivana Heyman and IYINY's Executive Director Chandra/Jo Sgammato for a dialogue on sharing Yoga with everyone, followed by a celebration and book signing.

Admission FREE
Reverend Jivana Heyman, E-RYT 500, IYM, is the founder of Accessible Yoga, an international organization dedicated to increasing access to the Yoga teachings. Accessible Yoga offers conferences, trainings, and a new online network dedicated to sharing Yoga with everybody.

He is co-owner of the Santa Barbara Yoga Center, manager of the Integral Yoga Institute of San Francisco, California, and an Integral Yoga minister. With more than 20 years of training and teaching in the Integral Yoga tradition, Jivana has specialized in teaching Yoga to people with disabilities with an emphasis on sharing Yoga philosophy. His passion is making Yoga accessible to everyone.

Jivana has led more than 40 Yoga teacher training programs over the past 16 years, created the Accessible Yoga Training program in 2007, and currently leads trainings around the United States and in Europe. In December 2015, Jivana was invited to teach Accessible Yoga at the United Nations in Geneva, and he continues to work toward expanding access to the teachings of Yoga.
Also with Jivana Heyman, E-RYT 500: