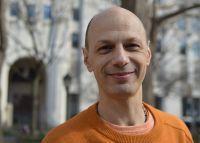 Being a Witness: The Key to Peace

with Prem Sadasivananda

Thursday, January 17 • 7:00–9:00 p.m.

"One should distinguish between the mind and the witness who moves and illumines the mind; between ordinary sensations, feelings, and sentiments and perfect awareness, or Pure Consciousness." —Swami Sivananda
The state of being a witness of one's thoughts and mental states is the most sublime state of being and meditation. It allows us to rise above the traps of the ego and erroneous notions about life. We will discuss the nature of witnessing consciousness.

$27
Prem Sadasivananda, a scholar of Vedantic philosophy, Hindu scripture, and Sanskrit, is well known for his lively and humorous talks, his accessible teaching style, and his unique ability to bring the ancient Yogic scriptures and texts to life in the modern world. Prem began his spiritual journey as a sannyasin (monk) for 24 years in the Sivananda organization. Prem is a direct and long-term disciple of Swami Vishnudevananda.
Also with Prem Sadasivananda: