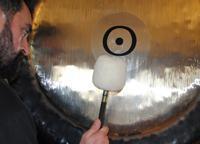 Autumnal Equinox Gong Bath: Be Cleansed with Healing Sounds

with Kozmic Shamans

Saturday, September 21 • 7:00–9:00 p.m.

On the day when light and darkness are equal, when summer turns to fall, and when your spirit is ready to embrace the crispness and colors of autumn, treat yourself to an evening filled with the sounds and vibrations of magnificent gongs, singing bowls, and more. Presented by graduates of Grand Gong Master Don Conreaux's Gong Master Teacher Training held at IYI, this event will be one to remember.

$30
Kozmic Shamans are gong masters and sound healers certified by Grand Gong Master Don Conreaux. Kozmic Shamans have mastered several basic aspects of gong healing and holistic resonance. They continue to spread the rich vibrations and sounds of the gong in a variety of settings and will surround you with the vibrational energy of love and light.
Also with Kozmic Shamans: