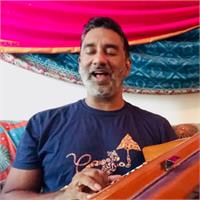 As Above, So Below: Love of the Self Kirtan

with Nirmal Chandraratna

Saturday, February 8 • 7:30–9:30 p.m.

In Eastern thought we are presented with a spiritual pun of sorts when we talk about the Self, universal consciousness, spelled with a capital S, and the self, often defined as the individual ego. Rather than treat the two as separate entities, we have the opportunity to play with this relationship between the universal and the individual, and how one perspective can illuminate the other. The ancient phrase "As above, so below" reflects a unity that helps us to understand that, as we begin to expand our identity to embrace the well-being of all, we can tread more easily on the path to sustained peace and joy.

In this Kirtan, we'll devote our loving attention to singing Sanskrit and Tibetan mantras, celebrating wholeness, compassion, and transcendence with heart-opening melodies and rich vocal harmonies supported by dynamic instrumental textures of the harmonium, cello, and drums.

$20 in advance / $25 day of event
Nirmal Chandraratna is a certified Integral Yoga instructor, Kirtan artist, and composer with a passion for nurturing connection—to spirit, to community, and to one's deeper self—through music.