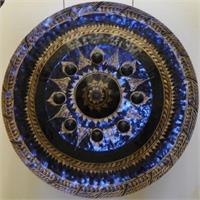 All-Night Gong Puja: Call In the Spirit Guides

with Kozmic Shamans

Saturday, October 26 • 10:00–11:55 p.m.

It is said that nine 45-minute gong baths will lift your consciousness to the place where all is healed. This special, all-night event will feature a puja (worship service) and an all-night gong bath so that you may bathe yourself in sweet vibrations. We'll begin with a guided meditation led by Rev. Laksmi, to let you meet your spirit guides, your spirit animals, and receive your Divine word, followed by a short puja to invite in Divine energy in all its forms. Let the primordial sound, the first manifestation of God, transform your body, mind, and spirit. The event includes tea and cookies.

Doors will open for admission at 9:30 p.m. and close at 10:30 p.m. Event ends Sunday morning at 6:00 a.m.

$108
Kozmic Shamans are gong masters and sound healers certified by Grand Gong Master Don Conreaux. Kozmic Shamans have mastered several basic aspects of gong healing and holistic resonance. They continue to spread the rich vibrations and sounds of the gong in a variety of settings and will surround you with the vibrational energy of love and light.
Also with Kozmic Shamans: