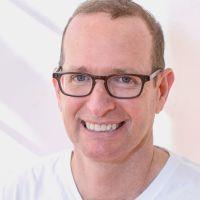 Tuesday–Thursday, May 5–7 • 9:00 a.m.–5:00 p.m.
Join the Accessible Yoga Movement!
Accessible Yoga is an international advocacy organization focused on sharing Yoga with everyone. We offer Accessible Yoga conferences, a journal, and the Accessible Yoga Network. The Accessible Yoga Training focuses on how to make the Yoga teachings available to all, regardless of their level of physical ability. We'll focus on creating integrated Accessible Yoga classes where all students can practice together. We'll explore the many ways that Yoga practice can be modified to suit students with disabilities and physical challenges, as well as seniors.
We'll consider how to make our classes welcoming to everyone and how to approach students in a trauma-informed way. You'll learn sample Gentle Yoga classes, Chair Yoga classes, and even Bed Yoga classes. We'll look at ways of bringing the Yoga teachings and meditation into your classes and how all of Yoga can be used to support health and healing for every body. We'll also review common medical conditions so that you'll have a basic understanding of those issues.
Graduates of the program become Accessible Yoga Ambassadors and connect with a network of Accessible Yoga teachers and students around the world.
Accessible Yoga Teacher Training is open to everyone whether they are a yoga teacher or not. Yoga teachers will get certified and receive 30 Yoga Alliance hours.

Sign Up With a Friend and You Both Receive a $50 Discount! You must register at the same time by phone.
Call 212-929-0585, extension 16.
$650, register by April 5 and receive a $55 early bird discount
Reverend Jivana Heyman, E-RYT 500, IYM, is the founder of Accessible Yoga, an international organization dedicated to increasing access to the Yoga teachings. Accessible Yoga offers conferences, trainings, and a new online network dedicated to sharing Yoga with everybody.

He is co-owner of the Santa Barbara Yoga Center, manager of the Integral Yoga Institute of San Francisco, California, and an Integral Yoga minister. With more than 20 years of training and teaching in the Integral Yoga tradition, Jivana has specialized in teaching Yoga to people with disabilities with an emphasis on sharing Yoga philosophy. His passion is making Yoga accessible to everyone.

Jivana has led more than 40 Yoga teacher training programs over the past 16 years, created the Accessible Yoga Training program in 2007, and currently leads trainings around the United States and in Europe. In December 2015, Jivana was invited to teach Accessible Yoga at the United Nations in Geneva, and he continues to work toward expanding access to the teachings of Yoga.