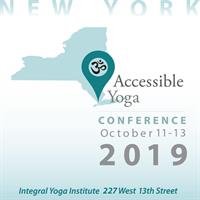 Friday, October 11 – Sunday, October 13, 2019
Events take place at Integral Yoga Institute and other nearby venues. Schedule is available upon registration.
Join the world's leading adaptive Yoga teachers for a weekend of education, community-building, and inspiration.
We'll explore ways to make Yoga available to everyone regardless of ability. All Yoga students and teachers are welcome. The mission of the Accessible Yoga Conference is to provide a forum where the Yoga community can come together to connect, share, and support those who wish to expand access to the Yoga teachings for people with disabilities, chronic illness, seniors, and people who may not feel comfortable in a regular yoga class.
Join us for a weekend program which includes asana classes, workshops, and panel discussions with yoga experts and social justice advocates on a variety of topics related to increasing access to Yoga. Topics range from adapting poses to community building.
Learn more about the conference and register at
IYI Community will receive 10% discount off the ticket price with the Promo Code: IYI
Scholarships available.
Continuing Education Credits: 17
Reverend Jivana Heyman, E-RYT 500, IYM, is the founder of Accessible Yoga, an international organization dedicated to increasing access to the Yoga teachings. Accessible Yoga offers conferences, trainings, and a new online network dedicated to sharing Yoga with everybody.

He is co-owner of the Santa Barbara Yoga Center, manager of the Integral Yoga Institute of San Francisco, California, and an Integral Yoga minister. With more than 20 years of training and teaching in the Integral Yoga tradition, Jivana has specialized in teaching Yoga to people with disabilities with an emphasis on sharing Yoga philosophy. His passion is making Yoga accessible to everyone.

Jivana has led more than 40 Yoga teacher training programs over the past 16 years, created the Accessible Yoga Training program in 2007, and currently leads trainings around the United States and in Europe. In December 2015, Jivana was invited to teach Accessible Yoga at the United Nations in Geneva, and he continues to work toward expanding access to the teachings of Yoga.
Also with Jivana Heyman, E-RYT 500: