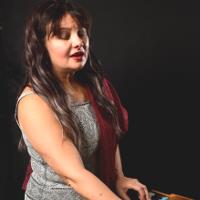 Saturday, February 16 • 7:30–9:30 p.m.
Satya Franche's Kirtan blends her past musical experience with the influence of her mentor wallahs Krishna Das, Shyam Das, and Ma Chetan Jyoti. With a varied group of well-known Kirtan musicians, she offers her practice to the feet of her gurus Sri Neem Karoli and Sri Siddhi Ma.
$15 in advance, $20 day of event
Satya Franche began singing as a child in Montreal, studied music at Grant MacEwan College in Edmonton, Alberta, and graduated from Berklee College in Boston. She was Ma Chetan Jyoti's assistant, traveling through India responding and playing kartal. She started to lead chants in 2005 and works as a studio musician on many Kirtan CDs. She regularly presents Kirtan and has one CD, Love Is in the Name. A second one, Faith in Hand, is on the way.